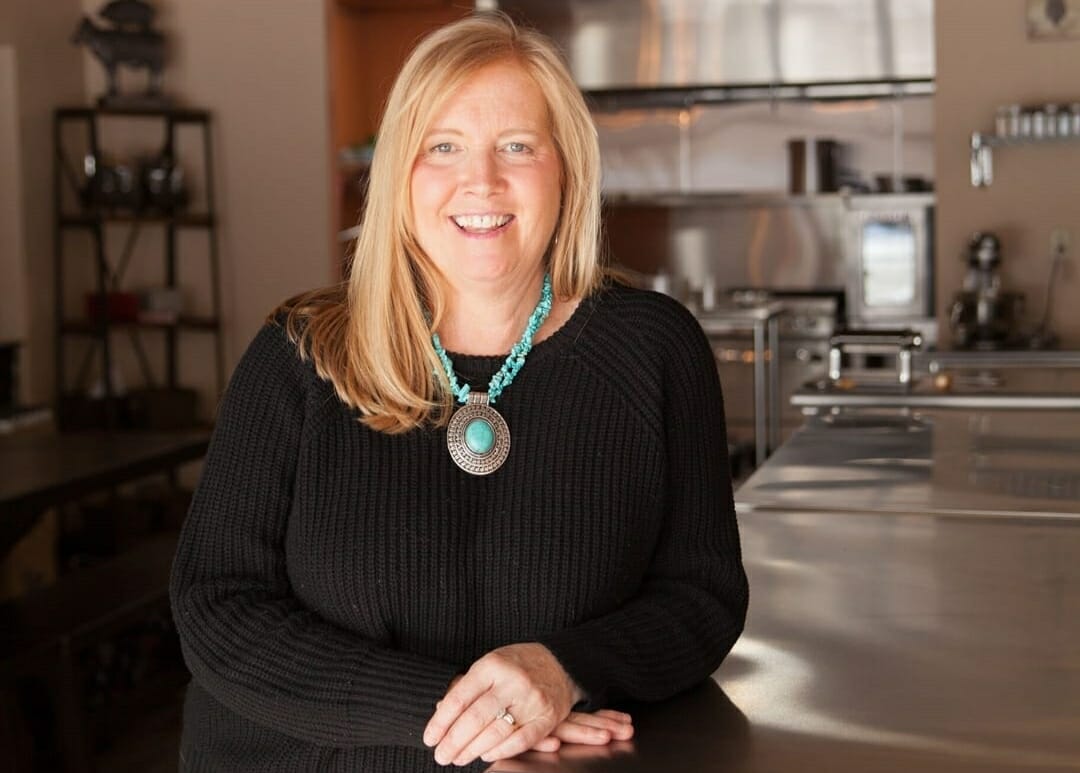 Food, Education, & The Wider Impact of the Culinary Arts
Food is more than just fuel! Cooking is all about community. We are pleased to welcome Navy veteran, chef, educator, and business owner Pam Dennis to the show -- Chef Pam teaches her community how to share the joy of cooking with their family and friends.
I have had the love of cooking since I was a child helping my Mother in the kitchen.  She was a beautiful cook and always shared her love for it with our family.  My father is from Albania and, growing up, my Mom also taught me how to cook the many Greek and Albanian dishes we all loved to eat.  I am a retired Navy nurse and during my time in the Navy, I had the opportunity to live in southern Italy and Germany learning their European cuisines.  I loved to help my "Italian" Mom, Anna, who also shared her love of the southern Italian cooking with me for the two years I lived across the hall from her family in Pozzuoli, Italy, outside of Naples.After retiring from the Navy, I used my GI bill to attend culinary school and spent six weeks in the south of Spain for a culinary internship. The European influences have become an important part of my culinary endeavors.  My love for sharing my cooking with others is what led me to teaching the joy of sharing a meal with friends and family.  I hope you will join me for one of the many culinary experiences offered.  Buon Apetito!
Listen to our conversation via the Wisconsin Veterans Forward Podcast (in 2 parts), or watch the full video below:
Full Interview Transcript:
Ep 128-129, April 2022:
Adam Braatz - WVCC:
Today on Wisconsin veterans forward. Everybody loves food. Am I right? We love food. And food's more than just fuel. I mean, you, you ask a body builder like a competitive fitness, whatever they might say, like food is just fuel. I eat six chicken breasts and a teaspoon of rice every day, just fuel. But for the rest of us, for like, you know, humanity, food is important. Food is about community food is about sharing with your family and friends and loved ones. It's for, for people who cook, it's an expression of themselves. And, and so like, we are super excited here on this, this, our, our last office hours live of restaurant and retail month to talk to not only a veteran a Navy veteran, but also a business owner and also someone who works in the culinary arts and in arts education. Holy cow, Pam has such a great chef, Pam, sorry, chef Pam has such a great story and such a unique arc to her career.
Adam Braatz - WVCC:
And what brought her from, and can you imagine being a nurse in the military to being like, I wanna learn how to cook better, and now I'm gonna teach other people how to do it and how to build a community around that and a business around that too. It's the coolest thing. So really for the veterans, Wisconsin veterans chamber of commerce that that's off in case you didn't know that you probably do otherwise, if you're in the wrong place, stick around, you know, like just see what we have to offer we're here. It takes all the boxes for us, cuz we want to talk to veterans. We wanna talk to veterans who are successful professionally. We want to talk to, to, to veteran business owners who are having success. We wanna talk to veterans who are having a positive impact in their community and who are educating and paying their insights and, and their value and their skills forward.
Adam Braatz - WVCC:
Like this checks all the boxes. So I'm super excited about this. Couldn't have thought of a better guest to have here on our very last last show of, of restaurant and retail month. It's gonna be really, really cool. So you know what, we're gonna get into it. Right after I play this four second video, you are listening to Wisconsin veterans forward. Wisconsin's premier audio resource for veterans, military families, veteran owned and veteran friendly businesses. Wisconsin veterans forward is brought to you by the Wisconsin veterans chamber of commerce at wiveteranschamber.org. So Pam, tell us about chef chef Pam's kitchen.
Pam Dennis - Chef Pam's Kitchen:
It's a, we opened the business three years ago in February 1st and we were two doors down in a smaller space is a cooking school where it's chef assess. So you cook with me. And then we also rent out our commercial kitchen. So we started out in a 1500 square foot space and it had one commercial kitchen and we started to outgrow it, our, what my classes were selling out. And then we had a lot of artisans that were interested in renting out our kitchen for whatever food business they culinary dream. I always call it something that they wanted to present to the public. And so they need a commercial kitchen in order it to make it so June Fort of last year, we expanded into this space where I currently am sitting today to talk to you and it's 5,000 square feet, four commercial kitchens.
Pam Dennis - Chef Pam's Kitchen:
We have about 20 artisans that rent from us. And then we do private events where you can book the place and you have it to your site. We design the menu together. So do bridal showers. We do supper clubs where I will do all the cooking and you just enjoy I've done. But my dream was food and fellowship to bring people together. I always say gathered around the table. We make special memories. And so I, after I went to culinary school, I did work in a restaurant, did some catering, worked on a food truck, but found this is my love being right with the people and cooking with them and seeing them enjoy our fruits of our labor.
Adam Braatz - WVCC:
That's amazing now, Y you know, running out of space because you are scaling rapidly is a really good problem to have as a business owner, right? How many years? I, I couldn't do the math on that quick. So how many years from when you opened that first shop to when you needed to expand to a larger facility?
Pam Dennis - Chef Pam's Kitchen:
It was about two and a half years
Adam Braatz - WVCC:
That quickly.
Pam Dennis - Chef Pam's Kitchen:
Yes. Yes. And, and, and it made it amazed me, but I think people are looking for experiences. We sell a lot of gift cards during November, December for Christmas gifts. Also birthday gifts throughout the year anniversary gifts. People
Adam Braatz - WVCC:
I lost you there for a second. We seem to be having a little bit of connectivity issues, but can you imagine scaling your business so rapidly that in two and a half years, you have to move out of a building and into another one. We'll see, we'll see if Pam can get relo. Oh, there she is. She's back. Yeah. We just, we, we got disconnected for a second there and I didn't want you to, it stuck on the, the freeze frame there. So two and a half years, that is, that is like a dream come true for most business owners. And, and so you have, have you continued to scale since then? What did, what did the COVID shutdowns do to your operations? Did you have to kind of shutter for a while? I know we did.
Pam Dennis - Chef Pam's Kitchen:
We, we closed during the initial quarantine and then when we could open and do like pick up or delivery, we pivoted really quick. And we went from to offering bread soup. And you could also add on a bottle of wine and we would deliver it curbside or, and pick it up with masks. And then we were very blessed, a company and eaten company reached out they are an essential company. So they reached out asking if we would make meals to go. So it was a meal for four people in a box. And then the supervisors handed it out to their employees at the end of their shifts and they ordered 450 of those boxes.
Adam Braatz - WVCC:
Nice.
Pam Dennis - Chef Pam's Kitchen:
So that kept us going. And then they came back around and asked us if we would provide something for a kickoff of the United way campaign. We did 1200 caramel applicants.
Adam Braatz - WVCC:
Nice.
Pam Dennis - Chef Pam's Kitchen:
We didn't sit in COVID, you know, I, I had a lot of people saying I'm at home, I'm not working. And I'm like, I'm working full time.
Adam Braatz - WVCC:
<Affirmative> wow. So, but, but that took a pretty adventurous pivot and, and a willingness to just be like, okay, we're doing this now. Is that kinda how you've always done business and how you always will, or was it kind of a situational necessity or, or tell me about that?
Pam Dennis - Chef Pam's Kitchen:
Well, I think, I think my military background, for sure. It gave me that you know, I spent two years with the Marines. I was in medical unit that took care of 350 infantry Marines and the Marines always Sayem Gumby, always flexible mm-hmm <affirmative> to the Navy does creates that same environment. And so I think that's, we, that's what we did. We, we knew we needed to pivot and do something different because if we tried to do what we've always been doing when it worked during,
Adam Braatz - WVCC:
And, and let's, let's go back to that then, cuz I'm very interested. So you served as a nurse in you said the Marines, I'm sorry. I said Navy earlier. I hope I, well
Pam Dennis - Chef Pam's Kitchen:
Maybe, maybe, but for two years I was assigned to a, a medical unit that took care of the Marines.
Adam Braatz - WVCC:
Got it. So you were a nurse in the military and at that point when you were serving, were you like when I get out, I'm gonna open chef Pam's kitchen or like how, tell us about that. E because it seems like there's gotta be a lot of steps in between being a military nurse and being a, a, a business owner that teaches folks how to cook, right?
Pam Dennis - Chef Pam's Kitchen:
Yeah. So what happened is I was deployed to lawn stool army medical center in and six. The army was short medical people. So they asked the bureau of surgery and medicine for the Navy. If we could provide nurses, doctors, Navy, corpsmen pharmacist, physical therapist two long stools. So we were the first group in, and it was 350 of us that deployed. And we were gone for 13 months. So we backfill long Wyoming medical center. So some of the army nurses docs healthcare, people could go down range. So we, we took care of the wounded warriors within 24 to 36 hours of being wounded. The it get flown into Ramstein air force base, and then fast forward, I come back after that few months, I actually went to the veterans office for something else and discovered that I had four years of free education at N U w school because I had deployed for longer than 12 months from Wisconsin and support of operation enduring freedom.
Adam Braatz - WVCC:
Now that's the, the sorry to interrupt, but just so people know, is it correct? That that is the Wisconsin state GI bill and not the federal nine 11 post nine 11 GI bill. Yes.
Pam Dennis - Chef Pam's Kitchen:
Yes.
Adam Braatz - WVCC:
A lot of people don't know that there is a state GI bill Wisconsinites. There is a state GI bill and it, and it, and it rans to your dependence simultaneously. Like my kids can go to a UW school because of this w sky. It's an incredible benefit. Nobody knows about it. Holy cow, we gotta help spread the words more. So you used the state GI bill. All right. Yes. And did you know when you were a nurse that you were like, I'm gonna go to school for cooking or did it just kind of Dawn on you? You some or what?
Pam Dennis - Chef Pam's Kitchen:
No. You know what happened is twice I'd gone for a master's degree. Once I was doing recruiting out of Boston and I was part-time at Boston college for family, nurse practitioner using part of the GI bill. And then I got transferred. I chose to get transferred to great lakes because I met my husband and he was from Chicago mm-hmm <affirmative>. And so I didn't finish that masters. And then I was part-time at Devar university for a little color school of management. That's connected with downtown Milwaukee for a masters in healthcare management when I got deployed to Germany. So I came back from Germany and I thought, okay, I haven't finished two masters. Maybe God doesn't want me to get a master's in healthcare. And I said, I started to think, what else do I like to do with
Pam Dennis - Chef Pam's Kitchen:
What would I use this education for? And I said, you know what? I love to cook, but when it doesn't turn out, I'm always like, what went wrong? So I thought I'm gonna go to culinary school. So I went to WCTC in OA, absolutely wonderful school. Very helpful to an old student because I started at age 50 to go to school from admissions to the information desk, to the actual culinary program. Everybody was so helpful to get me through that program. And and then I graduated and I did work at bery kitchen in de field for a little bit. I worked on a food truck. I did some catering and I remembered back when I was stationed in Italy, that I used to go to a woman's house. She was an American that married an Italian and never went home. So she decided she'd teach cooking classes to the American military would go to her house. She'd put a bottle of wine, a bottle of water and would cook two things with her. And it was just a fun night out. And I kept thinking of it. Yeah. So that's where, that's where this idea began.
Adam Braatz - WVCC:
Wow. And so that, I mean, that is making that transition, doing healthcare your entire career pretty much. And then at 50 you said
Pam Dennis - Chef Pam's Kitchen:
50,
Adam Braatz - WVCC:
I wouldn't have even guessed that you're 50 now, but like at, at 50 you said, I'm going to culinary school. I'm gonna, I'm gonna, and, and at that point, was it just, I wanna learn how to cook or were you scheming like someday chefs, Pam chef Pam's kitchen is gonna be a thing. Did you know, then
Pam Dennis - Chef Pam's Kitchen:
I, I knew I wanted to make it a career. And when I graduated, I, I, I, I was trying to figure out what, what I wanted to do with it. I wanted to name it Bella kina because I, my time, my two years in Italy and I loved Italian foods, but my husband thought, well, who's gonna know what that means translates to. And then up with, he came up with chef Pam's kitchen and there began <laugh>. So, you know, we, we started out where we opened February 1st, but I was approached from the Milwaukee journal Sentinel in January of that year. And they asked if I, they could interview me and come <affirmative> film a class and put it in the food section, Milwaukee journal Sentinel. So it was gonna be in the Sunday paper, February 10th. And I said to the woman, Nancy stores who now has retired, but I said, I don't have any classes yet. I'm just opening. And she said, well, you have friends and neighbors invite them. And so we did, and I think that just kind of opened up the doors to our business, having that in the newspaper, you know, February 10th after opening February 1st. And again, we were blessed that she reached out and wanted to do that article. And
Pam Dennis - Chef Pam's Kitchen:
You've been busy since yeah.
Adam Braatz - WVCC:
You've been going at it ever since. So, so tell, tell me about, you know, the, a little bit more about the community aspect of this. You said that you know, thinking back to your time in Italy, that there was the time where your friend was teaching people how to cook and, and how important is it to you to tie the community aspect of cooking? So versus like a technical, like here's how you make a chicken breast, you know, or here's how you make a veal, whatever, you know, or pasta, how do you, how do you tie that community or does it just kind of happen naturally?
Pam Dennis - Chef Pam's Kitchen:
I, I, I think I think again, that food and fellowship, because people come two by two to the classes, and now with our new expanded location, we have a total of, of 24 people we can have in a given night with the chef assist classes and people come to two by two, but by the end of the night, they're at the dining room tables, finishing dessert, talking about exchanging emails. And if you come again, let me know. I wanna come when you come, we'll just cook something different. And I I'm standing there thinking you just all met. You just met tonight. <Laugh>
Adam Braatz - WVCC:
Yeah.
Pam Dennis - Chef Pam's Kitchen:
And I think that's what is neat for me to see, and that was my dream and my hope that people would get the love for cooking. But also kind of The fellowship around it as well. And I always kid people, I nurture people with healthcare as a nurse. Now I'm nurturing them with food.
Adam Braatz - WVCC:
You know, it's, it's funny, a lot of people say in the, in the professional networking world, that more deals happen over a meal in a, in a, in a boardroom. And I think that's that, I mean, you're, you're proving it right there. One, one evening at cooking with strangers, you know, and now you have friends. That's so cool. Tell us about your youth serving and youth education initiatives. You mentioned something about when we were on before the show mentioned something about a summer camp. Tell us about that. And, and how important is it for you to teach kids about how to cook?
Pam Dennis - Chef Pam's Kitchen:
I love teaching adults, but the kids are really, they're like sponges. They just absorb whatever you teach. They're excited to be here. And so we offer kids camps in the summer for eight to 12 year olds. We also offer teen camps for 13 to 17 year olds. And this summer we actually, we were sold out last summer. So this summer we're offering double sessions. There'll be kids, camp offered nine to 11, and then again one to 3:00 PM, and we've got five weeks of the kids, eight to 12 year olds. And then we also have two weeks of the teens and the teens are really fun. Last summer, we had a baking competition. So the camps are, you can come one day, two day days, three days are all four days. We cook wheat and a savor item and two of each, so they eat one here and then they get to take one home and share it with their family.
Pam Dennis - Chef Pam's Kitchen:
And it's amazing to me. Parents will come and say, I can't believe they're eating that they would never eat it at home, but it's the idea that they need it themselves. And they're so proud of it. And then I recipes so they can try at home and sometimes I'll get emails like the day after the class. A parent will email me and say Mary wants the recipe. She wants to make it for the family this week. And I say, well, give me a week. And then I'll email the recipes from the kids camp. So it's fun for me to see. And and even some of the kids now that are eight to 12 in that range that are now into the teen classes. And last year with the baking competition, we started with Monday with the teens Monday, learning how to make vanilla cupcakes and chocolate cupcakes.
Pam Dennis - Chef Pam's Kitchen:
And why don't they sometimes turn out or why do they look funny and what, what are we doing that causes that? And then we went to the next day of learning how to make buttercream frosting, how to make the Swiss Marine buttercream mm-hmm <affirmative> and how to put flavor profiles. Then day three, we talked about different flavor profiles in the frosting and design wanted to do for a vanilla cupcake and a chocolate. And then day four, they put together their cupcakes and we judged them and picked a winner. And two doors down our whole old space is now mama Duck's bakery and ma Melissa Luga, who owns it, used to rent from us. And then she was ready to open up her own business. So that's really a cool thing for us to see someone, you know, be able to branch out and do that, but she showcased their cupcakes. It was cool. For a couple days, and parents were so proud to tell everyone to come and buy their team's cupcake that won the competition. So really fun exciting things we're doing with kids and teens, hopefully to get them to come back as adults.
Adam Braatz - WVCC:
Absolutely. You know, it's our, our kids have done locally cuz we're we're, we don't live in Waukesha. But, but our kids have done cooking classes and then have come home and shared their meals and they have that pride and they eat things that they wouldn't normally eat just cuz they cooked them.
Adam Braatz - WVCC:
And now we've gotten to the point where every Thursday night, the two old, the oldest, they alternate cooking dinner that night. Oh that's cool. Yeah. And it started out very creatively, especially with the younger, the two with very creative flavor profiles. <Laugh> but, but it's they've, they've both really, you know, they've started to focus in on a recipe that they're really good at and then branch out to a second one and they're starting to see what works and what doesn't and man, if I could take them over to the, to one of those summer camps, it sounds like you're, it sounds, you're really getting into the, the, not just the like put the chicken on the pan for 10 minutes, but like, or, you know, bake this for 10 minutes or whatever it's you're getting into the like, so the end result was X. Why did that happen? Because you mixed it too much. You beat it too much be, or you, you left it in too long or not enough. Like you're really kind of getting into a little bit of the science behind this E even with the kids. Is that right?
Pam Dennis - Chef Pam's Kitchen:
Yes. Yes. We we teach 'em a lot of different things. Like the five mother sauces that all chefs are taught. We might like with the teens we taught last summer how to make a Beel sauce. And then we took it to the next level and, and said, now that you know the basics of the Bestel sauce, let's talk about, if you add this type of cheese, now it's called a Moe sauce and then we made a pasta dish with it. So always trying to give culinary tips and about what they're doing, not just making it,
Adam Braatz - WVCC:
Have you ever about teaching a summer camp for like retirees
Pam Dennis - Chef Pam's Kitchen:
<Laugh> that would be, I, I wouldn't be adverse to that. It would probably be really fun
Adam Braatz - WVCC:
Because I, I thought myself, like I would, I would do a summer camp. I'm clearly not a teenager. Just barely I'm clearly not a teenager anymore, but I would do a summer camp and then it's like, oh, well I have to work. I have a day job. I was like, man, if I was retired, like I would do that in a heartbeat. You know, maybe you have like a, a silver summer camp or something.
Pam Dennis - Chef Pam's Kitchen:
Yeah. That sounds fun. You've had people that have come like I just, the other night, I'm thinking, as you were saying that there was a woman that I was talking to about how to hold the chef knife. So for the adult chef assist classes, we start with talking about how to hold the chef knife, that chef knife, that you're gonna purchase one good knife in the kitchen. That should be the knife that you spend the money on. And she looked at me and she said, I've been cooking for 30 some odd <laugh> I think I've got this. And I said, you, you do, you do. And it's looking good, nice job on the mincing. But it's funny that I think there are I've had a lot of older people that come to our adult chef assist classes that maybe are in their sixties, seventies that are saying to me, I've lost the love for cooking and you brought it back tonight.
Adam Braatz - WVCC:
Awesome.
Pam Dennis - Chef Pam's Kitchen:
So just learning some new recipes and a few culinary techniques, I rejuvenate some of the people that have been cooking for years.
Adam Braatz - WVCC:
Now. Now talk about a dream come true from a, you know, us being a, a business organization, we represent you know, veteran owned and veteran friendly businesses throughout the state for somebody to see you, someone who, you know, had a dream, got educated, opened a business scaled rapidly, and you've built a, a huge a business. And if you're not careful, you're gonna need an even bigger building. It sounds like you've built this huge successful operation, and you're also using it to give back and to serve your community and to educate the next generation and all of these amazing things like that. That is that's the dream for, for entrepreneurs. And a lot of veteran entrepreneurs, they wanna be able to support themselves and their families doing what they're passionate about and serve their community at the same time. Sounds like you've hit the, you've hit the, the goal mine here. What's next for you? What does the future hold?
Pam Dennis - Chef Pam's Kitchen:
I dunno, you know, I've retired twice now. I retired from the Navy in 2000 and that I worked at community Memorial hospital in the Omni falls. I retired from there when I officially decided to do the culinary thing full time. So I don't know what's next for me. I mean, I, we are, we wanna add more things. Our business, we have a marketplace now that we opened super bowl weekend. Mm-Hmm <affirmative> we sell pizza kits to go. We partnered with a company here in Wauk shop called Baker's quality. It's their generation brother and sister owned. And we sell their three crops that are usually only sold to restaurants. And you get three thin crus, my homemade pizza sauce, your choice of pepperoni or sausage and a bag of cheese and it's pizza kit to go. And then we also showcase our artisans products that we over 20 artisans that rent out our commercial kitchen.
Pam Dennis - Chef Pam's Kitchen:
You're probably seeing some of them behind me. Right now we have three of the four commercial kitchens occupied with people making things for the public. And so that piece I really wanna work on and add more product to be sold. The, the people of that rent out our kitchens. And then also we wanna this fall when the outdoor farmers market <inaudible> closes the end of October, we will want to have an indoor farmer's market here at she's kitchen. So we feel, we love the downtown business environment and the small businesses we work with. But I feel sad that at the end of the farmer's market season, these people go off to other towns that happen to farmer's market and we haven't had one. So we would like to do showcase that this November 1st and to our artisans that make things for the public as well as other artisans that are at the Shaw farmers market in the summertime.
Adam Braatz - WVCC:
That is awesome. It's, it's cool to see how much you wanna do in that community. And I agree with you, the downtown waha, that main street area is spectacular, great community and a tight-knit community. And, and that tight kni community, if anybody's been watching the news in the last few months was just absolutely rocked by, by a, an unspeakable tragedy. For those of you that, that don't know, I'm sure you all do there was that, that unhinged person who drove a car into a parade on main street in waha. Now, I I'm sure as you made your career transition from being a nurse and from healthcare into the culinary arts, probably never anticipated having to bring your old training back to life. You know, and, and, and use that. And yet here you are present during the parade tragedy during that catastrophe, was there any hesitation or I mean, you jumped in and you started helping people, was it, did your military training just snap into place and you went there and just started helping. And, and what was that like? Or were you just not even thinking about it?
Pam Dennis - Chef Pam's Kitchen:
My husband and I, and another chef that works with us here, who's an army veteran, her and her husband, the four of us were sitting out front in soccer chairs right in front of our business, watching the parade when it happened and immediately Jen and I just responded I think we just went into mode of military, what we have as nurses. And she learned first aid and body care with the army in her job with the army. So we just responded, I saw someone in the middle of the road, a, a young boy, I ran a, she ran out to check the kids that had been sitting in front of us. And and it was just amazing how many people opened their doors businesses here to just as a safe Haven for people to come into. So just an incredible, incredible outpouring of support in a time when you know, people could have turned their backs and not help, but everybody just kind of mobilized and did what they could do.
Adam Braatz - WVCC:
I think that really speaks to the, the quality and the depth of community in Wisconsin. And in walk Ashaw in that, you know, Mr. Rogers always said, you know, if you're trying to wrap your brain around at tragedy, you, you look for the helpers. And I, I, it was so fortunate that you were, were a helper that day, you know, especially given your training and your willingness to get out there and, and, you know, save life and limb, you know, and, and, and take care of people afterwards, you know, people are talking and trying to figure out why we have talking heads in the news, arguing about this, that, and the other, but boots on the ground, in the trenches in waha. Tell us about how that community banded together and what you witnessed in the aftermath of that tragedy.
Pam Dennis - Chef Pam's Kitchen:
Well, we had the Previn at the, the area in front of the library, and that was, I think very healing for me to go, to see the amount of people that came and then the speakers, the clergy from different denominations praying with us all. And then small business Saturday happened, you know, we was the Saturday after that tragedy. And a lot of us were debating, should we open? Should we be open for business? And my husband, and I said, we're not gonna let evil win. We are not gonna be stopped by somebody that did something so terrific. So we opened our doors and we sold waha strong t-shirts, and it was amazing how many people came downtown to either get a blue light, to put at their house to remember the grade and then also buying the waha strong t-shirts. And then we also had one of our, we do a lot of lobster classes because I'm from new England and
Adam Braatz - WVCC:
Okay.
Pam Dennis - Chef Pam's Kitchen:
And we had our main main now lobster company where we get all our lobsters flown in from Maine, FRA, our, they reached out even, and they said, what can we do for lock shop? We saw what happened on the news. And so we said, how about you give us 50 lobsters? And we put on a, a lobster benefit dinner where the minimum amount of donation was a hundred dollars. And it was crazy because December is always the busiest month for food businesses. And then we plopped in a, a baked stuff, lobster dinner for 50 people in city. But again, the people that came out in support of that, and then we got volunteers to help me cook it. And that was really cool, like a volunteer fireman people that one woman, her, her her daughter and her son-in-law are teachers in waha. So she came to volunteer just, she wanted to be help helping, and I think it was healing for all of us to be able to do that. So again, the businesses around here just rallied and, and did what they could to let everyone know we're gonna still be open for business. And,
Adam Braatz - WVCC:
Yeah,
Pam Dennis - Chef Pam's Kitchen:
It's fair.
Adam Braatz - WVCC:
Well, I, I appreciate you sharing that, that, that obviously it can't be easy to do, so I can't thank you enough for opening up about that. It, you know, as, as it, obviously it was a tragedy, there's no other word for it. And you know, our thoughts and, and prayers continue to go out to those affected by this and their families. And, and I, I can't even imagine, but, you know, on, on the hopeful end of things, I'm just, I, I was so proud, you know, and I know a lot of people were so proud to see wa Shaw not be knocked over by this and to see you band together and support those who needed it. And it was just, just a Testament to your community. And it's a Testament to the business owners. You included how you rallied around it and created an opportunity for everybody. I mean, you could have donated yourself, I'm sure. But instead you created an opportunity to donate and let other people get involved with each other. And like I do you know, that you're just like an incredible community builder. Do you know that? Or is it like, is it an intentional thing? Cause you really are.
Pam Dennis - Chef Pam's Kitchen:
Well, thank you. I think it's my nursing background, the nurturing piece, but yeah,
Adam Braatz - WVCC:
I mean really to, to, to see that opportunity to do a lo I can't imagine 50 people cooking lobster all at the same time. And did you do that as, as a benefit?
Pam Dennis - Chef Pam's Kitchen:
It was channel six, I think came and did a, a little segment about it and I could think of his, oh my gosh, everybody make sure your hair is back. Make sure you've got well, you know, the chef and the retired nurse was coming out, but, you know, they were so willing to help that, you know, you didn't wanna turn people away. So it was, I mean, it was a fun two days. And again, I think it was healing for all of
Adam Braatz - WVCC:
Us. Yeah, well that this is, this has just been an incredibly enjoyable conversation, chef Pam I can't thank you enough if somebody wants to learn more about your classes and what you do and how you do it, let me make sure that I put a banner up the website.
Pam Dennis - Chef Pam's Kitchen:
The website is chef PAMs, kitchen.com.
Adam Braatz - WVCC:
That's easy to remember
Pam Dennis - Chef Pam's Kitchen:
On the website. There is a section for the new marketplace, and then there's a section for if you wanna sign up for a class or if you wanna contact me about a kid's birthday party or the summer camps my phone number's list it on the website as well, and feel free to call. If you have questions or email me, I'm more than happy to answer any questions that people may have about you here. I think some people still in waha act sure what we are is we not really a restaurant? And they're still trying to figure it out.
Adam Braatz - WVCC:
Well, we we'll, we'll do everything we can to get the word out too. Maybe we'll bring our whole staff over there to, to do a, a cooking building. Yeah. Team building. Exactly. So I have the website, right? Chef Pam's kitchen scroll along the bottom there. Yes. Okay. Excellent. Well, thank you so much, chef Pam for sharing your experiences and, and just your, your very inspiring story with us. I'll ask you to hang on the line for just one second here. Folks. That was like probably my favorite interview in a really, really, really long time. Like seriously talk about a success story from a business perspective and somebody who is humble and grounded and dedicated to service veteran business owners, take notes. See if you can take her out to, and just pick her brain cuz she she's a good one. She knows what she's doing over there and is doing great things for her community. That's awesome. I'm see. Good conversations like that. Just like motivate me. Like I'm motivated now I'm gonna go for a jog or something. So the burning question is, did other Adam end up going on that jog? It's a mystery world may never know. Thank you for listening to Wisconsin veterans forward brought to you by the Wisconsin veterans chamber of commerce. Please visit us at wiveteranschamber.org. Don't forget to subscribe to this podcast, leave a rating and review in whatever platform you're listening through.