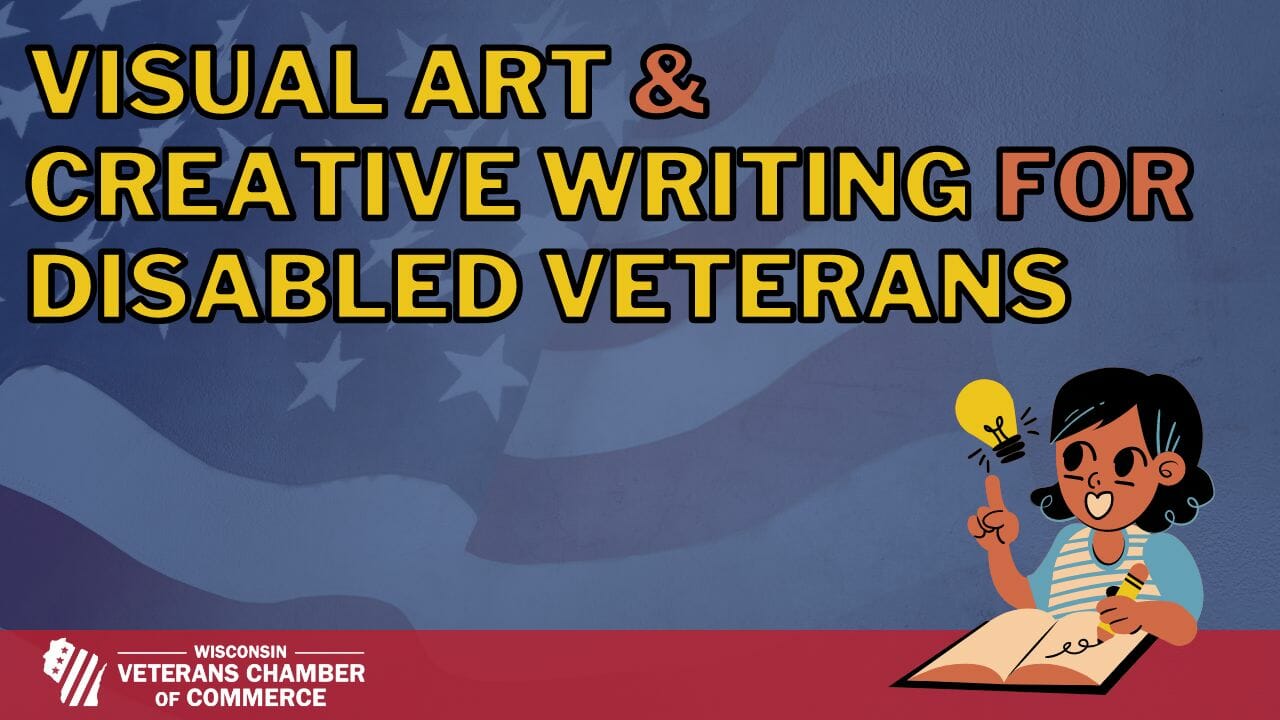 How Can Art Or Creative Writing Help Disabled Veterans Heal From Trauma?
There are a myriad of ways that veterans find solace after service. Many are surprised to learn how prevalent the arts are in the veteran community, and how effective visual art and creative writing can be in helping a veteran to express him/herself.
From www.artsforallwi.org :
"ARTS for ALL Wisconsin's Veterans Arts Studios were formed in partnership with Vet Centers in Wisconsin to engage veterans with disabilities in art making experiences. Veterans programs are free, and expanding to welcome veterans with disabilities from the public as well as Vet Center clients."
We were pleased to welcome the ARTS for ALL Wisconsin crew to the show to discuss their veteran-supportive programming and the value of art therapy in helping veterans to heal.
Listen to our conversation via the Wisconsin Veterans Forward Podcast (in 2 parts), read the transcript, or watch the full video below:
Full Interview Transcript:
Ep 130-131, April 2022:
Adam Braatz - WVCC:
Today on Wisconsin veterans forward veterans often need assistance. They often need help when it comes to reintegration. Some of them have a hard time, especially combat veterans, especially those who may have been injured in the process of serving their country. The folks who may have, have been dealing with post-traumatic stress as a result of their service whether combat or non combat related a, a lot of service members and their families even have stress associated with their reintegration back to the civilian world and the civilian working world. We all know that it's something we talk about all the time, but how those veterans and military families find solace and peace in battling whatever is, is afflicting them physically, mentally, meta, physically, spiritually, whatever it, it varies. And the efficacy of these coping mechanisms and these healing mechanisms varies drastically from person to person.
Adam Braatz - WVCC:
Some people use exercise, some people use cooking and a lot of veterans, a shockingly law, large amount of veterans find peace and transformative healing through the arts. They find a way to express themselves via visual art, painting, sculpture, pottery, mixed media, you name it or mixed medium rather. Is it mixed medium or mixed media? I think I just showed really briefly there that I didn't know what I was talking about. I was doing a good job of sounding like very knowledgeable there for a second mixed media. Okay. Mixed media. There we go. I think that's right. Send me a message. If I'm wrong or dramatic arts spoken word theater, we've had a local group here, nonprofit feast of Crispian. They do Shakespeare four veterans veterans have found if you remember that, if you haven't seen it, go back and watch it.
Adam Braatz - WVCC:
It's a really good one. These veterans find an opportunity to express themselves in their feelings, through these other characters and have found like they've saved lives with this. It's incredible, the impact and the musical arts as well, singer songwriter stuff, playing in a band guitars for vets is a great organization that helps that, that is basically a vehicle for music therapy for veterans. The, I mean, the, the, the, the studies that validate the arts as a healing, coping, coping, and, and and a as a pathway to piece and a mechanism for that, the, the studies are a mile long. They go out the door and around the corner and they keep going all the way from here to Nebraska. So why is it so difficult for the non-veteran community to wrap their brain around the arts? Oh, and I should also mention creative writing is in there any creative outlet for some reason, the, the general population, the 99% of people who are not in the military in this 84% of people who don't have a family member in the military.
Adam Braatz - WVCC:
A lot of times we are viewed as robotic. We're viewed as you know, worker be. We, you know, we are inflexible robotic which is just not true. If you've ever met a veteran or engaged with a veteran, we are creative, just like everybody else. Veteran community is diverse and varied. Every demographic in age group and background and creed and orientation is represe Zed. And accordingly, the talents are different. There are CRE there are different ways, creative outlets for these veterans and, and ways for vets to, and military families and military spouses to express themselves. And they do, they have that in their bones and their DNA, just like everybody does. So, so getting that, the word out there that veterans are creative and not only are they well suited to creative expression, but can be a mechanism for healing. Getting that word out is I'm, I'm, I'm a, I'm an evangelist for that.
Adam Braatz - WVCC:
Not just cuz I have a background personally in the arts, but like it's so important. I've seen the hour music therapy and music education for these people, but you didn't come here to listen to me. Talk about that. We have acquired quite the panel of experts when it comes to this, the team from arts for all Wisconsin who do a number of program advocating for the arts throughout the state, but also veteran specific programs. They're all here. We got Jill, we got Christie, we got Joe, we got Beth, we have four people. I think this is the most we've ever had on the show. We have a, we have an army, we have a squadron. Well, squadron's an air force. You, you know what I mean? We had a group of people here to talk about the efficacy of the arts and in particular, specifically visual arts and creative writing for veterans and military families. And we're gonna get into all of that, which I'm very excited about right after this eight and a half second data you are listening to Wisconsin veterans forward. Wisconsin's premier audio, a resource for veterans, military families, veteran owned and veteran friendly businesses. Wisconsin veterans forward is brought to you by the Wisconsin veterans chamber of commerce at wiveteranschamber.org, ladies and gentlemen from arts for all Wisconsin are good friends. Jill Christie, Beth, and Jill Audi, everybody.
Jill - ARTS for ALL WI:
Adam, thank you for having us.
Adam Braatz - WVCC:
Yeah. my pleasure. So let's, let's dive right in cuz I kind of pontificated on the front end and let's start Jill, what is arts for all Wisconsin? What does it do? Why should we care? Why should we support it? How does it do it? Where did it come from? Give us the, the background information here.
Jill - ARTS for ALL WI:
Yeah, absolutely. So arts for all, Wisconsin started as very special arts, Wisconsin and then VSA, Wisconsin. We've been a statewide nonprofit for 35 plus years supporting people with disabilities around the state through programs in the arts. So that's what we do. We have a lot of different types of programming that we offer. One side of our organization does a lot with exhibiting and selling visual art and rec presenting artists to support them in that way. And I oversee all of our educational programming. So that includes several adult choirs around the state programs in schools and community centers. Arts classes for adults work with seniors with Alzheimer's and memory loss and our work with veterans which started at our Madison in veterans center. That happens to be in the same building as us.
Jill - ARTS for ALL WI:
So that's, I think how we got connected is the readjustment counselors that were working at the Madison vet center had some clients who were, who were interested in, in exploring, you know, healing through the arts and they reached out and got connected with us, cuz this is what we do. We see the power of the arts supporting people with all different sorts of challenges and all different sorts of life, circumstances and backgrounds. And so extending it to the veterans population certainly makes sense for us and it makes sense for the people that we serve.
Adam Braatz - WVCC:
And so you're just, you're, you're in the same building as the Madison vet center. And one day you just walk by Joe there who's with the Madison vet center and you kinda looked at each other and you're like, oh wait a minute, there's an opportunity for a synergy here. Or how did that come about? And how long did it take to get all of the stakeholders obviously who have to sign off and support it and develop these programs on board? Or was it just a quick, like this makes sense. Let's, let's do this.
Jill - ARTS for ALL WI:
Sure. the original collaboration started before my time with arts for all actually. And so I wasn't a part of that initial formation of the groups. But I know that one of the previous readjustment counselors who worked there really had a passion for the arts and sort of believed in that power of, you know, healing and transformation that can have been through that. And so I believe it was kind of her initiative to, to bring more arts programming to the veterans that they serve. Joe, I don't know if you have any more background from your perspective on, on how the the vet center, you know, was really supportive in this, in this process.
Adam Braatz - WVCC:
Yeah. I'd love to, I'd love to hear from you on this for sure.
Joe - ARTS for ALL WI:
Absolutely. So yeah, it wasn't me. I was here when it happened. But I don't know exactly the inside story and how it happened, but it was, it is one of our Jen who doesn't work here anymore, but she's the one that somehow they connected. I know she connected with anytime fitness, which is just crossed the parking lot from us. At one time too, trying to see if there's a way we could work with veterans and, and fitness side too. So I'm not exactly if she was the one who initiated or how it came about, but that happened. And then she pulled me into it which has been a very good experience for me, my own personal journey. And just from a counseling perspective, seeing what's done for veterans, the art side, and particularly I work more with Beth on the Redding side, but yes.
Adam Braatz - WVCC:
Again, I'm sorry, there was a little delay there. I didn't mean to interrupt you. Do you have a background in the arts then? Was this kind of a new endeavor for you?
Joe - ARTS for ALL WI:
Completely new endeavor? So I was kind of roped into it. As I've told Beth many times that I was not looking forward to the, the running group. However, as so I came up along where Beth was gonna be the instructor for the running group. I was gonna be kind of the, the veteran plus the, the, a counselor just in case something went wrong to be able to, to help out in that way. And Beth invited me to go ahead and write and participate. And I did, and it it was very helpful for me for my own personal journey, but I've witnessed how it's been impactful for my actual veterans that I worked with on the individual case and how the writing has been very beneficial for them there. As well as the art side I've seen even, I haven't had as much input there, but I have actually seen pretty amazing testimonies of what have come out of just the veterans that I know who have gone to the art pro program there for art for all.
Adam Braatz - WVCC:
So, so you, you, you being a veteran who has, has personally seen creative writing in specific, but the arts you've seen you, you've personally experienced that as a, as a way to, to heal and, and to express yourself. Now Beth and Christie, I think maybe we'll go to Beth since she was mentioned next, are you a veteran? And if not, were you kind of surprised at the connection here? Cause I think, I think it sounds like Joe was surprised at the connection from the veteran end, Beth, were you surprised from the arts end that this was a match made in heaven?
Beth - ARTS for ALL WI:
No. You know, no, no, but thank you. I'm not a veteran. And the Genesis really came out of, I have a big background in news television news. So I would go to get your story Adam or Christie's or Jill's or Joe's, but it would be all chopped up just because of time. Right. You watch the news and it's and I thought, well, what happens if people really had to say that they were the Genesis and the generator of their own story and they had their own platform. So through a bunch of other training and really the Genesis was was a a sister and a brother team. He worked with trauma mm-hmm <affirmative> with people coming out of war and then she ha is running a very large event center out east and they came to share their own experience. Like you said, Adam, like that, the documentation of the science supporting what we've known for a long time, you know, what the arts actually do. So it wasn't, it was just, you know, working with Joe, having art center say, yes, let's do this. Let's make it happen. And then to trust the process and then to watch the vets write, or they were creating and then to have the stories come back. So it really did require an awful lot of trust though, you know, was it like a sure thing? It was like, oh, you hear about it. And the science is there, but how does it actually roll in and matter? But yes, it absolutely backs all the science,
Adam Braatz - WVCC:
You know, it, it it's it's, I couldn't help, but think that, so you may not know my undergrad education is in music and even during college for music, the music kids, especially the jazz kids, cuz we were all judgemental, everybody else. We, we were, <laugh> very, very what's the word I'm trying to find a good word. We thought the art, the, the arts therapy kids were weird. Okay. Like we, it was so misunderstood. It's such a misunderstood discipline that even K kids in the music department were like, yeah, I don't really know what that is, you know, and, or, or what that does or how, you know, and obviously now being older and understanding things more and seeing firsthand the healing power of the arts and how it can be used for a variety of people through a variety of disciplines, it's it's eyeopening.
Adam Braatz - WVCC:
And, and I really wish that they did more to educate, you know, people as they're growing up that like art therapy, dance therapy, like all of those things are like legit practices. So Beth, do you find that overarchingly, you run a into barriers of resistance or, or, or speed bumps when it comes to implementing these programs? You said there had to be a lot of trust. Did you ever face kind of like a, I don't see how this is gonna do anything sort of reaction to what it is that you do?
Beth - ARTS for ALL WI:
No, I mean, Adam, it's a great question. I have to say the it with arts for all. I did not run into that and that's why it works. That's why Christie's like smiling. She's like, yeah, they get it. They know what happens and Jill, a big supporter and the people that were there, even when I came on. So no, not for them, but yes it is Adam. It is. It's like because people want a product, they want it in their hands. Right. Or they wanna say, I wanna take these steps to get to this thing. I want it solved. I don't really wanna go through a process. And all of this is a process and it takes time. There is an awakening that's coming, you know, because it can't be like, I remember in school they would call it big journalism. You know, it can't be big therapy, like the fast food solution of things.
Beth - ARTS for ALL WI:
Right. I mean, that's, I remember that statement being made. It's not Nick anything. Yeah, really. And for the first time, I, I sense people saying, especially after the last two years to say, I want the time I need the gift of time and space to make sense out of everything and I'm gonna take it now. I don't want anything fast. It's been all too fast already. Right. So, but I do see it changing because you know, you know, you look at your own schooling and everybody on the screen, it's kind of like being pioneers. Is anybody gonna follow this thing? Or am I out chopping away all by myself? So there is, but I do see it change very open. Aimable cooperative and collaborative with arts for all though. It is, that was not a contestant anyway.
Adam Braatz - WVCC:
That's excellent. You know, and, and the VA, especially, or really any veteran support mechanism as I'm sure Joe understands from, from working at a vet center here from serving veterans through a vet center a lot of times it can be that kind of assembly line therapy sort of thing. Like you need something. Okay. Here's pills and there's a therapist and check mark you've been taken care of when it's really, for some people that might work well for most people. It's probably a little more nuanced than that. And I'm, I'm so glad that we're getting away from the mic therapy, as you mentioned, Christy. Could, could you tell us about, and I, I'm sorry, I, I saved you for last here, but in, in what can you talk about what you do as a resident artist for, is, is that what it's called a resident artist
Christi - ARTS for ALL WI:
Teaching artist,
Adam Braatz - WVCC:
Teaching artist, mm-hmm <affirmative> for arts for all. And the impact that you've seen that make in the people who you serve.
Christi - ARTS for ALL WI:
For sure. So I'm Christie grace. I'm not a veteran, but I have veterans in the family and I've been working with arts for all, for about three years. And so I came in starting with the vets. And so what you mentioned before as like people perceive as robotic you know, like I had that as a civilian coming into it. I was like, I don't know what to expect. Especially as a creative, you know, who is a, who's a little kooky, you know, like, but the first day Joe was there and we, we just introduced each other and I observed, and then at the end I had one vet come and he is like, are you scared of us? I'm like, no, I'm not because of what I've experienced. Like just people, just people yep. Trying to live life. And so just getting into that experience, a lot of what we went through was creating a relationship.
Christi - ARTS for ALL WI:
So I think that's, that's huge with veterans. Like there there's loneliness around them in so many ways and to find a group of people looking for the same thing, you know, all from all different backgrounds, but coming together to make art, you know, it's not like I'm prying into their lives, trying to find, you know, the deepest darkest is like, let's make art together. That was the beginning. Yeah. and so we generally picked a medium and then we learned how to do it and then would make art together and the conversation and relationships that happened around that central thing, just learning is what is what really huge
Adam Braatz - WVCC:
That's that's so cool. And Raymond Roberts hopped in here board member for the Wisconsin vets chamber, he said packed house today. You said it. Yeah, we got a, we got a panel of experts. I, I love it. Christie, when you're working with the veterans in, in the, in their, in their creating of art, do you notice that their healing is this gradual process or does it work up to a moment of kind of like realization that, that like, oh, I get it or, oh, I have expressed this thing and now I've to turn a page to a new chapter. Obviously the healing is never complete and we must be vigilant and, you know, and, and consistent and about all of that. But, but is it a gradual thing or have you seen that kind of like awakening?
Christi - ARTS for ALL WI:
I feel it's both. So it's very gradual when people come in at first most people like crumple up their art at the end and, and throw it away. And like, they'll even say something about it. Like the, the worth they feel, you know, in that artwork is, is very little. But as we grow and as they learn, like, I'll hear some people say these art terms that they learned and I can feel the pride in them, just like, I know this, I am mastering it. And having that confidence is it's a huge thing. And so I think it's a mixture of like healing slowly as, as they come and feel supported and create something new. And then once in a while, it's like the aha moment when they, they voice that they've learned and conquered something. And I, I just, I feel that, and they, they take their work home or they give it to somebody or even allow it to be in different veterans shows. And so that growth, you know, I'm sure there's some wiggles along the way, but like, it's definitely upwards,
Adam Braatz - WVCC:
How common is it? I was, I was kind of surprised to hear that for, but, but I guess now that you mention it, it's not all that surprising for a veteran to come in and after their first attempt go like, oh, this is stupid and crumple it up and throw it away because they're self conscious about it or, or for whatever reason,
Christi - ARTS for ALL WI:
It's, it's very, very common. You know, or, or they're very the first time, but like even I've had some very skilled artists in the class and, and if they're having a rough day, that confidence in their artwork is very low. Even if like everybody says, says, that's beautiful, but they're hearing it. They're hearing the, the positive words around them, but yeah, definitely starting out. There's a lot of, I don't know if I could do this. I'm not sure I can master that skill. Oh, don't look at my work. It's not great. But then at the end of, you know, the three years of working with them so far, that level has changed a lot
Adam Braatz - WVCC:
Outstanding. And I suppose as a, you know, as somebody with this trained eye in art, you're able to see E their progression through what they're creating which I think must be very, very special. What, what does the future hold for this organization? I I'll go back to Jill. I mean, right now you're serving veterans. What is the future? Do you, do you wanna scale and serve more veterans? Do you have ideas for additional programs? I suppose maybe let's talk about your programs now and then talk about what the future entails.
Jill - ARTS for ALL WI:
Yeah, absolutely. So the past two years have, have led to a lot of different transitions through our, you know, many programs, but also the veterans groups that we have you know, some met virtually some met outdoors at parks and other locations. You know, there've been staff that have come in and out you know, transitioning through. But at this point we are sort of restructuring a little bit keeping the partnership with the vet center and welcoming their clients to attend the group. But we're also hoping to open it up to veterans who may be, you know, members of the public and not receiving vet center services, but who would also be interested in, you know, exploring some of these artistic opportunities. So coming up starting the week of May 9th, we have a six week session starting in both visual art and in writing the visual art session will be run not by Christie grace actually by, but by another teaching artist we have named Jesse Salgado who is herself, a veteran, and also working on her masters in art. So bringing a lot of really good experience and talent to the program. And we've also had had a similar program and collaboration with the Wassa vet center. They've seen some changes now too. And so I'm hoping to bring that back up in the near future and hopefully expand to other locations as, as interest and you know, capacity allows. But if you would like to find out, oh, I'm sorry, go ahead, Adam.
Adam Braatz - WVCC:
Is there a fee for these programs for the veterans?
Jill - ARTS for ALL WI:
No, it is absolutely free for veterans to attend and we provide all of the materials that would be necessary. They don't need to provide any, you know brushes or tools or anything else. We have a really well art center here in Madison, so yeah.
Adam Braatz - WVCC:
So if you're a veteran and you can verify your, your former service status, you can provide your DD two 14, you can get a six week art, take six weeks of art classes with a professional free of charge with all materials provided
Jill - ARTS for ALL WI:
All. That's correct.
Adam Braatz - WVCC:
That's an incredible opportunity. That's an incredible opportunity. So, so you're operating outta Madison and you said you're hoping to expand these programs elsewhere. What do you, what do you have in mind for the future?
Jill - ARTS for ALL WI:
Well, we've been talking with vet centers in waa and in green bay. Okay. To see if, you know, they have of interested Adam um clients who would benefit from these services and if they have, you know, locations and ways of spreading the word and that sort of thing. So as we, we can create more connections and have more testimonials and, and awesome, you know, people who can attest to the experience that they're, you know, they're gaining from these programs. I think, I think it will continue to grow because the need is certainly there.
Adam Braatz - WVCC:
That's excellent. And I do have the, their website scrolling across the bottom there, if you wanna learn more about them and what they do. And if anyone has any questions here while we're, while we're chatting, we still have a little bit of time left, so I'd be happy to relay those, just throw 'em in the chat there. It doesn't matter which platform you're watching through. Just drop us a line, say howdy, ask 'em what their favorite sports team is, who their favorite who their favorite visual artist is ask them if they're going to be attending the May 25th annual veterans light up the arts event, which I hope everybody, everybody here watching will be. But yeah, I, I wanna turn over to, to Joe now to just ask about, let's see if I can jockey this around here. There we go to ask about the, the vet center and how, how you've seen these art therapy programs play out and what role you see that playing in the future, at least for your vet center. Is it one, is it something that you wanna keep at its current level? Is it something that you need to see you know, from firsthand experience, you need to see it expand tenfold. What do you see as an, a vision for an ideal future?
Joe - ARTS for ALL WI:
Well, I, I would say I would love to see it expand tenfold. I would love to see I, I think that the intriguing thing with the therapy side of the house is real quick. I just wanna hear something that Christie said earlier, which is kind of the most, this is the thing that as a vet, where, and the therapist side of me, where why I get excited about specifically the writing group in art individual art group. Is that the reason I think it's so successful is that you're able to come and be yourself and kind of express who you are, whether it's in Redding or in a visual, but then you're doing it in a group of other veterans. And what happens to so many of us veterans when we come home, we we're, we're trained to fight, you know, on our brothers and sisters on our reckon side.
Joe - ARTS for ALL WI:
And then we come home and we, all of a sudden we're left to by ourselves. And we're, we're kinda like stuck as we isolate. And, and this is just a great opportunity where you can be, but actually be able to kind be your express yourself, a form that might be, and then get the support of those around you. And I think that's where a lot of the truth healing comes from in my perspective. But yeah, I, I hope that this art for all and this connection we have with them continues to grow, and we continue to see people coming to use it not only for their own progress in life and getting better and readjusting to life, but just for their own, their own enjoyment of, of doing it. So I, I could say for instance, I had, I've had several testimon I could give on how this has been so impactful.
Joe - ARTS for ALL WI:
And like one of my clients, she I was gone for a month and she had a issue come up. She didn't have anyone else to reach out to. So she just started writing as Beth had taught her and all the different things Beth has, has given her the insight in writing. And she said with, with just the writing on herself, by herself, she was able to resolve her own anxiety over the issue she was facing. And it was this amazing thing, how this just, it doesn't just impact this for the moment here. It's something that they can carry on in their life and on the arch for all the more the visual side, a, a gentleman, I think it was actually last week, he came in, I hadn't seen him for probably three or four years and he just came in and he had some art.
Joe - ARTS for ALL WI:
He wanted to show me and he said, Joe, working with you. And then going to arch fall gave me my passion back for something I was really gifted at. And he just sold several paintings to the university of Wisconsin hospital for a lot of money. And this gentleman was not in good shape when he first came in here. So it's just an amazing thing to see as a, as a counselor to watch how in conjunction with therapy, this has just been amazing to watch what veterans have been able to use use their, whether it's, again, the visual art or the writing, how that's been helping them in their own individual lives. And so it's just pretty powerful. So yes, I would love to see this continue. This relationship we have in, in more veterans come to its for sure,
Adam Braatz - WVCC:
That's good stuff you should have that veteran are artist submit their work to potentially be exhibited. At our fifth annual veterans led up the arts event here@themilwaukeeartmuseumgotoiveterans.art. And it'll take you right to the event page and towards the bottom of the description, there's a link for artists to meant. We're accepting submissions now through April 24th, at 11:59 PM, all disciplines of art, visual, art, spoken word, dramatic art music, whatever you submit it. And it's being informally juried by three art curators who know a lot more about that than I do. And then we'll let our select these know and, and invite everybody to come out. The whole exhibit is by veterans, military family members. So that might be a good fit for him. And a lot of the people who work who work with, with arts for all Wisconsin as well, I, I wanna be able to do around Robin here and just ask if there's any, anything that, that you wanted to make sure that we covered or any closing thoughts or anything, I suppose let's go to Beth next. Is there anything that you want to convey about these programs and their impact or the future or anything that you have going on that you wanna share with people who might be watching?
Beth - ARTS for ALL WI:
Well, thank you. But just to echo with Joan, I'm glad he spoke up because that's the real benefit having a therapist in there because he, she, they, you know, get to be able to kind of unpack that part of it, but, you know, personal testimonies were, you know, there is one vet who said, I just could not have the didn't have the energy or even the words to send a card that was really difficult to his mother. And after taking some classes, his comment was with a writing that was inspired. I sent the cards thanks for planting the seeds along the way. It also gives a platform to, for people to share their voice. You know, one woman who was learning some other there, things that another vet outlet said, Hey, I wanna share that. I can share some things about resiliency. So more those kind of testimonies were the big thing. And then yes, the writing group that, that will be running for six weeks. We'll be starting in may and then we'll see what happens because we'll see about some possible virtual ones. We also double check as I, that there are virtual writing and virtual art dropping classes in April and arts for all in the Jill can add about how to find those. But they're available too. No charge come test the waters.
Adam Braatz - WVCC:
Excellent. Yep. And learn more about those programs in classes arts for all wisconsin.org, Christie, what do you got for us? Any closing thoughts
Christi - ARTS for ALL WI:
For sure. So I would say anybody at all interested in these programs just, just come, there's a growth mentality. That's so key to this. Like we don't expect you to be excellent or, you know, advanced in anything like when you're coming in, just come and try and it's it's for your own personal growth and enjoyment.
Adam Braatz - WVCC:
Do you find that that's a challenge more so with the veteran community or challenge just overarchingly to get them to even come or acknowledge that, especially if they're new to the arts, that this could be a means by with, to express themselves or heal.
Christi - ARTS for ALL WI:
I see it as a challenge across the board civilian and veterans alike. But I do see people all the time saying like, I can only draw a stick figure or not even mm-hmm <affirmative>, they don't give themselves a chance to grow on it. So like, I think like you were talking about before, like veterans have found this as something healing, so they might even be better at, at giving it a try than, you know, some civilians.
Adam Braatz - WVCC:
Sure, outstanding. Joe, I know we were just at you here, but any closing thoughts that you wanna make sure that we get out there?
Joe - ARTS for ALL WI:
Well, maybe just to jump on board, what Chrisy just said there regarding, and your, and answering your question, I would be that veteran who would not want to, to go to the arch trial if I, as a, as a veteran again, as I said mentioned earlier, I, it was more of a kind of, I roped into it and I think that's where for me, as on the therapy side with my own individual clients, I do get to kind of share my own journey and how it has been so beneficial. Even to the point where I now use some of the things I've learned from Beth in my therapy practice, helping veterans and having, and using writing as a tool to help veterans in my own clinical work because I've seen it so successful. So not a writer not a, not an artist by any means.
Joe - ARTS for ALL WI:
I'm the sick figure kind of guy. But I have so anyways, listening that is kind in that boat. That was me. But I have found it to be an amazing avenue to just my own personal healing as I was I stated earlier in in what I've seen to do for so many other veterans. So if that's you I would say don't worry about it. Just come out and enjoy yourself and it's, it's a good time to be with other, other veterans and just express yourself the way you need to. So
Adam Braatz - WVCC:
It's a fun and relaxing and community centric and empowering thing to do. If you're hesitant, if you're a stick figure, sort of guy or gal just give it a shot. You know, you, you might, you might discover you might discover a hidden passion. Jill we'll, we'll close it up with you here. Any closing thoughts or anything that we missed? I feel like this time went by way too quick.
Jill - ARTS for ALL WI:
It did. It was a very quick session <laugh> yeah. Yeah, just echoing at what everyone else has said. Even if you don't see yourself as an artist we don't have any expectations of you coming in. It's just a time to explore a new outlet for expression for
Adam Braatz - WVCC:
You're not gonna get kicked out if you're a stick figure person. <Laugh>
Jill - ARTS for ALL WI:
Not by any means. No.
Adam Braatz - WVCC:
Get outta here. Who do you think you are? Yeah. <Laugh>
Jill - ARTS for ALL WI:
Yeah. So if you're interested in finding out more and connecting you can head over to our website arts for all. W i.org, if you look under programs, you'll see veterans arts studios,
Adam Braatz - WVCC:
Good stuff looking forward to following along enthusiastic Lee as this organization both of these organizations arts for all Wisconsin. And of course our vet centers throughout the state are collaborating to, to help bring these, these really truly deep rooted transformational healing opportunities for veterans, military family members. Thank you all for joining me. I'll ask you to hang on the line here. I'll I'll just chat with you after the show for just a set. There it is folks, I mean, firsthand experience from arts people from veterans, from veterans arts people and everybody in between. This is impactful stuff. It's not just this isn't fluff. This isn't like, you know, well, I suppose that's nice, but let's go, go back to the pills and, and the, you know, the therapy at the VA like it's, this is really impactful life changing opportunities for people who need help.
Adam Braatz - WVCC:
So not only should we be supporting, advocating evangelizing for programs such as the us, any opportunities we have to provide support for nonprofit organizations that advance the proliferation of the arts and arts therapy and healing through the arts of all disciplines we need to do. And for Pete's sake, if you're a veteran out there and you don't think you're an artist, or you have a creative bone in your body you're wrong, you have creativity within you. And there's a way you could have fun doing this. You could express yourself with it. You could find a new outlet. You might not be DaVinci. You know, you might not be the <laugh> the next, I don't know, insert artist here, who's famous, but you could find something that really helps to make you tick and helps you to find that within you, that that may have gotten lost or distorted over time by virtue of your honorable service to this country. So don't, don't write off the arts. Don't do it arts for all wisconsin.org. Appreciate y'all joining us. We'll see you next time. Thank you for listening to Wisconsin veterans forward brought to you by the Wisconsin veterans chamber of commerce. Please visit us at wiveteranschamber.org. Don't forget to subscribe to this podcast, leave a rating and review in whatever platform you're listening through.