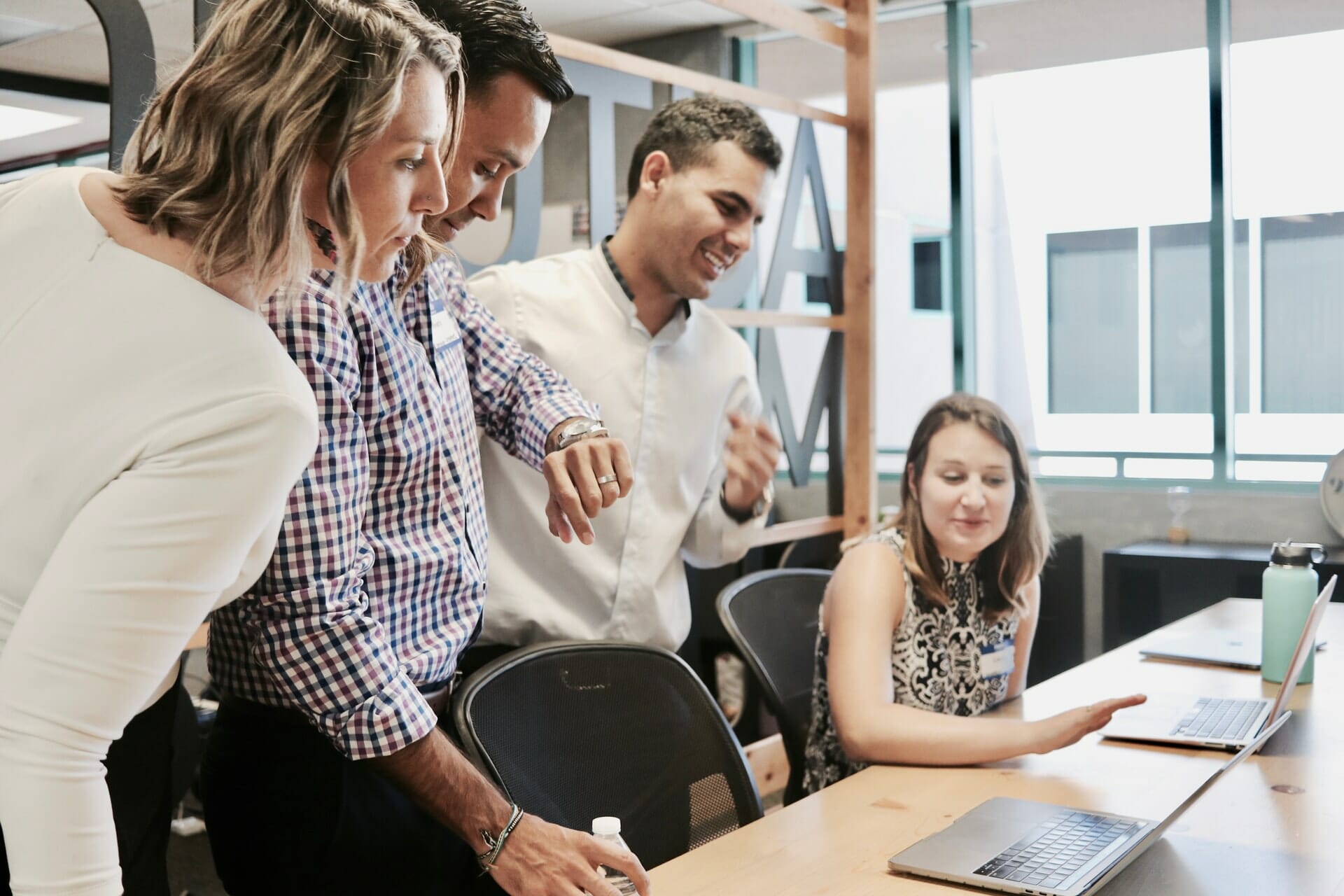 How This Innovative New Program Brings Veterans into the Workforces of Tomorrow
Brooksource's Project Patriot provides veterans with career advising, job search and interview coaching, resume building, salary resources, technical training, and ongoing transition assistance.
From brooksource.com/elevate:
Elevate is our workforce transformation program designed to upskill talent and build sustainable workforces of the future. Customers invest in our program to address skill gaps, infuse diversity, and create seamless succession plans. We pipeline with a purpose, giving organizations access to strategic talent pools.
We were honored to welcome Shelby Whalen of Brooksource to discuss.
Connect with Shelby here:
https://www.linkedin.com/in/shelby-whalen-2b09b3b7/
Learn more about Project Patriot here: https://www.brooksource.com/elevate
Listen to our conversation via the Wisconsin Veterans Forward Podcast (in 2 parts), read the transcript, or watch the full video below:
Full Interview Transcript:
Ep 150-151, July 2022:
Adam Braatz - WVCC:
Today on Wisconsin veterans forward. You know, we always love to talk about any opportunity. We have to talk about workforce development and in particular workforce development bringing veterans and military family members and military spouses into workforce pipelines, any opportunity we get to do that and to talk about programs that support and facilitate that we do that cuz we're the Wisconsin veterans chamber of commerce. And that's what we're all about. Like, you know, building a better Wisconsin, making Wisconsin the best state for veterans being a, you know, like any other chamber of commerce. We, we are an economic organization. We want, we want the Wisconsin economy to thrive. Overarchingly, not just micro economies, not just, you know, this veteran small business to succeed. We want that too. But we think the entire economy, the entire Wisconsin, all of Wisconsin will be better off. If veteran own businesses are supported and veteran employees and veteran transitioners and military spouse, employees are supported the way that they need to, to be supported the way that they should be supported and understood.
Adam Braatz - WVCC:
And you know, I'll have fun stuff. So any chance we get to talk about those kind of those big pillars of what we represent we're gonna talk about it. And in the whole world of, of veteran workforce development, there's a lot out there, but there's a difference as far as programs are concerned, but there's a difference between quality and and quantity. I mean, if, if, if quantity of support programs meant success, if quantity of let's see how I can phrase it. If quantity of support programs meant success, then we wouldn't have any veteran issues anywhere because there's 50,000, what veterans serving non-profit organizations out there. Goodness, quality matters, cuz there's saturation in all of these things. And workforce development is no exception. There are a lot of programs out there and some of them are great. Some of them are not as good.
Adam Braatz - WVCC:
Some of them are predatory. Some of them are just marketing employees. You know, so a corporation can say, look, we support our veterans. We have this paper thin, flimsy, whatever way to support veterans in their career transition or whatever we hire veterans. And it's like $14 an hour. Part-Time forget that. But on the, on the workforce development and their key players, it's not just corporate entities. They, they play a role and it's not just the the hiring entities corporate or non it's, not just the employees or the employment seekers or the career seekers or their spouses who are career seekers. But there are a lot of people in between who play a facilitator role, right? And in, in that kind of nebulous area in between staffing agencies have had have seen a, a, a boom lately and, and do a great job.
Adam Braatz - WVCC:
And I think recruiters are also in the kind of that same nebulous area, doing a good job of connecting talent with opportunity. And if that wasn't the case, corporations wouldn't spend so much money on recruiting because retaining a quality employee, even at a premium is a lot more cost effective than, than just like rolling the dice and having retention issues or not having a quality employee acquired. So, so, so the recruiters and the staffing agencies, all those folks in between do a really good job of bridging those gaps. And now some of them, some staffing agencies will have veteran specific programs and not really do it correctly. They will basically reach out to employers and say, you need to hire veterans. It's good for optics. You'd get a tax break. Hey, these guys are better friendly. And then next thing you know, we have underemployment issues. We have retention issues specifically in our demographic like epidemic underemployment.
Adam Braatz - WVCC:
Yikes. Okay. So a company out there that's doing it. Right. See where I was going with this. It was kind of a winding winding road there, but Brook source is a great company. We've been friends with for a really long time. They're headquartered outta Indianapolis. But they work nationwide and they they've really written the book on staffing solutions in a variety of areas. They have a program right now called project Patriot. Well, not right now. They've had it for a while. Project Patriot, which is this, it is a multifaceted transition and employment support program with ongoing support for veterans, military spouses.
Adam Braatz - WVCC:
It, it has the pre-transition the during transition and they don't just say like, here's your job? Good luck. There's like ongoing support. It really is topnotch. And to talk about it, our good friend, Shelby Whelan from Brook source is gonna tell us all about it. You get to stop hearing me talk about it. Cuz you've reached the extent of my knowledge. That's it? I am not the subject matter expert, but we brought the subject matter expert. So you don't have to listen to me talk anymore. We're gonna get into it right after this very brief, but very loud bumper video. You are listening to Wisconsin veterans forward. Wisconsin's premier audio resource for veterans, military families, veteran owned and veteran friendly businesses. Wisconsin veterans forward is brought to you by the Wisconsin veterans chamber of commerce at wiveteranschamber.org. Mmm. See, motivated, pumped up. Good stuff. Ladies and gentlemen, our good friend, Shelby. How are you?
Shelby Whalen - Brooksource:
I am great. How are you today, Adam?
Adam Braatz - WVCC:
Fantastic. I'm motivated. Ready to rock. Ready to talk about workforce development. So quick. Tell us about yourself. How did you get to be where you're at with, with Brook source and what do you do with Brook source?
Shelby Whalen - Brooksource:
Yeah, absolutely. So I just hit my two year mark with Brook source actually. And I have a bachelor's degree from UW Milwaukee in communications. And I came into Brook source two years ago as a technical recruiter and now I focus more so on workforce transformation as our workforce transformation program coordinator. And I know that's kind of, you know, a very wordy way to say it, but project Patriot actually falls under workforce transformation. So a lot of you right now is focus on associate level talent and helping them transition into really fulfilling careers and offer that support throughout the interview process as well as once they're in the actual position.
Adam Braatz - WVCC:
So, so let's, I mean, let's dive right in. So, so if you're you're managing project Patriot, then can, can you talk about, cause I, I was looking at this one sheeter for it and notice that, I mean, it is a multistep multifaceted, it isn't just like intake, outtake, revolving door sort of thing. So can you talk us through the whole, like what, what project Patriot encompasses?
Shelby Whalen - Brooksource:
Yeah, absolutely. And feel free to ask questions if they're, you know, if something doesn't totally make perfect sense as I explain it, because like you said, it is really comprehensive. So really it does work with an individual from, you know, the first conversation that I have with them all the way through, you know, the actual positions that they're in. So, you know, for example, the first conversation that I have with a veteran, maybe they, you know, self-disclose that they were in the service. Typically it is, you know, a 10 to 15 minute phone call, really high level, just to make sure that, you know, if we do move forward to an interview, it's not something that's a waste of their time. So we like to hit on the most important details. Talk about pay, talk about location responsibilities, right up front. If it feels like a great fit, we move into that first round interview.
Shelby Whalen - Brooksource:
That interview is still with me. It's about 25 to 30 minutes long. That's where we can get a much more greater detail and a better understanding of who this person is really. What is it that they're looking for and how will this job fulfill that? That also is a great opportunity to ask more information about their time in the service and understand, you know, what did that teach you? What do you think, you know, what unique skill set does that give you? What type of maybe leadership experience or, you know, just what, what did that teach you and how is that going to apply to your career going forward? And I do wanna just click caveat and say that, you know, we don't only work with recently transition veterans. We also very much, you know, work with someone who's in a senior level, maybe transitioned 30 years ago and doesn't need the same type of support.
Shelby Whalen - Brooksource:
So we can definitely talk about that, but I'm gonna focus on maybe someone who's more recently transitioned. So, you know, I can learn a lot more about that person within that conversation. And then I can also find out, you know, Hey, what about the interview process makes you a little bit nervous. What's something that you don't feel super confident in right now. And how can I offer you some support there or, you know, a big thing that we do with all candidates, but can be especially helpful for someone who's transitioning is looking through their resume and helping adapt it to the civilian workforce, making sure that instead of maybe listing an MOS, we list, you know, more specific responsibilities or things to make sure that, you know, a manager at, let's say GE healthcare can look at that and understand what that means, making sure that, you know, we're adapting those responsibilities so that any manager or any recruiter, whether it's me or someone else can look at it and really understand, yes, you are a great fit for this.
Shelby Whalen - Brooksource:
You do have that experience I'm looking for. So again, helping adapt the resume, but then also helping them throughout the client interview process. So I can offer feedback from the interview that I had with them and also identify certain skills where maybe let's say there are some soft skills that need some work or it's maybe overly formal <laugh>. And just being able to work with them, do some role plays, set up a call to walk through their resume, explain the changes I'd recommend, walk through, you know, the interview process and explain how they can best prepare and what I'm able to provide them with from an assistance standpoint. And then there's the side of really advocating for these individuals with our clients, because you know, I'm not just emailing over a couple of resumes. The manager looks and says yes or no. I'm actually sitting down with the hiring manager and explaining, Hey, this is why I think that this individual is such an awesome fit for their role.
Shelby Whalen - Brooksource:
And what I really like about that is that oftentimes gives me the opportunity to explain why I brought a resume that maybe isn't exactly what they expect. There's been multiple times where, you know, a position might say, we're looking for two to three years of experience in these three things. And I bring to the table, you know, a candidate that has, you know, maybe one year of experience, maybe they just went through a bachelor's or a boot camp, but they, you know, served four years or more in the Navy or in the army or, you know, something that I can say, yes, they don't have as many years of experience as you're looking for, but here's what you're going to get by hiring a veteran. And I've already spent 30 minutes to an hour with this individual. Here's what I got from that conversation. And here's why I think they're a really awesome fit for this position.
Shelby Whalen - Brooksource:
Even though, maybe on paper, it's not exactly what you expected. So I think that's one of the biggest things that we're able to do is really advocate for each individual and not just kind of be like, Hey, we're giving you the tools, but good luck with the hiring team. <Laugh>, you know, explaining here's what to expect. Here's how to interview them best. You know, we are really like the experts in the hiring space. That's why they're using us to begin with. So there have been, you know, multiple situations where I've brought in a candidate where maybe just looking at the resumes, they wouldn't get an interview where they wouldn't get hired, but once they actually got to meet with that hiring manager, they ended up getting a position that again, they might not look like on paper they're qualified for, or they might not, you know, you know, looking at the other individuals going for the position. It might not seem like they are the best choice, but then they actually get in front of the hiring manager, they can see the leadership experience, the maturity, the grit, you know, those kinds of things that we see so frequently with veterans and even explaining to, you know, to our clients, what this can do for retention, because I know, you know, with veteran retention numbers, they are significantly better than, you know, just a typical associate level candidate coming straight out of college that you might see otherwise,
Adam Braatz - WVCC:
You know, it's funny, you mentioned the, the over formality and that was an issue for me personally, as I transitioned, you know, I first of all, it was habit calling everyone's sir, or ma'am. But then also I think in the back of my head, I thought, you know, I'm coming from the prestigious military training instructor Corps known as the ultimate professional in the air force. If I go in there and show them this just polished professional, sir, and ma'am and blah, they'll be so impressed. And, you know, but then by the end of the day, what I realized is it just made me look like, like a, like a wild animal that had escaped from the zoo and wandered into the business by accident to the interview by accident. You know, it made me seem other, and even in some cases I had a superior tell me like, yeah, don't call me, sir, call me John or Jane.
Adam Braatz - WVCC:
And I'd be like, yes, sir. Or yes, ma'am <laugh>. And, and I could just tell far from being viewed as respectful, it made me seem other and separate and different. And I think that's something that a lot of veterans have issues with. Some veterans have issues on the opposite end of the spectrum that, that maybe they're a little rough around the edges, you know, but there's not a lot of in between stuff. And that's obviously generally speaking, you know, where mm-hmm, <affirmative>, I'm kind of stereotyping here, but so my one, my first question is, do you notice that there are a lot of trends like that as you work with veterans in helping them find their next career move, and it may not be a transition, maybe they've been out for a while, but do you notice that they're typically over formal or they're typically rough around the edges or they're typically, you know, whatever. Do, are there any trends that you see any common threads or is it all just kind of like, they're just random people like everybody else,
Shelby Whalen - Brooksource:
It's a mix, you know, it is absolutely person to person just like everyone else, but I definitely think it tends to edge on the more formal or more serious side of things where I think it often just sometimes takes a little bit longer into the conversation for them to open up a little bit. So I think it's also understanding those, you know, those soft skills and how to connect with people and how to get, you know, past that like more serious, more formal facade to actually truly get to know them.
Adam Braatz - WVCC:
So what a, what about from the employer end? You know, they they're, there are a lot of employers who are seeking veteran talent and some of them don't know why and some of them do know why do you notice any common threads on their end? What, what are they, what are they looking for? Why do they want veteran talent?
Shelby Whalen - Brooksource:
Mm-Hmm <affirmative> I think one of the main reasons is retention. I think we all know that, especially to just clarify, I specialize in the it and engineering space. I don't know if I mentioned that earlier and specifically in it, you do see a lot of job hopping in it consulting and that's okay. You know, the market has been crazy salaries skyrocketed by I think, 20% over the past year or so for software engineers. And a lot of that has to do with people, you know, being able to find higher pay with, you know, more remote positions. So I definitely think there is a huge appeal from the point of stability leadership. You know, again, we do so much education on the client side of like, you know, why should you want to hire a veteran other than the fact that maybe it gives you like the warm and fuzzies.
Shelby Whalen - Brooksource:
And I do think that there is, of course that level of like respect and maturity where people genuinely say, like I do, you know, I respect and I trust this person. And I think you just feel hiring, hiring someone is always a bit of a gamble. And I think that when you've, you know, met with someone who does maybe bring a little bit more of that formality to their interview, I'm not saying totally take that out the window. I think it's just making sure to still show who you are a little bit bringing in that formality, seeing, yeah. This person was able to make a decision. They stuck with it. They were really dedicated to something for a long time. I think that hiring a veteran sometimes feels like a little bit less of a gamble because you do understand the type of individual that comes out of the military and the strength that they bring.
Adam Braatz - WVCC:
So we, we did the, the, from the employment seeker and, and the, the employer and mm-hmm <affirmative>, but as far as synergies are concerned, have you noticed any common threads between the two? Like what are some things that might be a challenge as far as linking veteran talent up with a, a, with an employer who is seeking veteran talent? Like, what do you notice any common threads in disconnects things that don't things that get in the way of, of those matchups happening job's happening.
Shelby Whalen - Brookesource:
Definitely. And I can speak more to, again, the it and engineering space. So a lot of what we do specifically in our elevate workforce transformation program is upskilling. So it's not reskilling, we're not taking someone with a marketing background and teaching them to code. We're taking someone who, you know, maybe is a recent boot camp graduate four year degree, graduate someone with self-taught experience, but still is in that associate level. And then we help, you know, we provide them with supplemental, technical and professional development to help them get from associate to mid-level much more quickly than if they were to just be kind of thrown in learning on the job. So what we will often say is, you know, we would love to, you know, connect with veterans, right, as they're transitioning out of the, the military and then connect them with these positions. But sometimes what we'll find is that the technology that is being used while they're serving is not a close enough match to the responsibilities that they would be doing in a position where oftentimes they might still need to go to, you know, one of those technical boot camps for coding or need to go and, you know, to you know, a four year degree or an associate's degree to get that experience that helps them because sometimes that jump is a little too large that can be due to, you know, security purposes.
Shelby Whalen - Brookesource:
The military obviously has to use certain technology that, you know, let's say Footlocker, you know, doesn't, they, maybe they can pivot a little bit more quickly, or I've seen that in the it and engineering space. There's a lot of government contracting versus, you know, internally using individuals, you know, from the mil or from the army and the Navy, et cetera, they're outsourcing and using military contracts. So the individuals that actually serve don't always have that level of expertise since that was, you know, contractors were used for those roles. Does that make sense?
Adam Braatz - WVCC:
Absolutely. And, you know, you mentioned associate level positions and that's, that's kind of a, a large portion of what you do, but you also mentioned that, that you do staffing support up and down the chain. Which I think is super important because one of the issues that folks from our demographic run into is sometimes somebody gets out of the military after four years, they're 22 years old. They don't have a degree and they just have their specific experience. And then there's somebody who just got out after 24 years, they have two undergraduate degrees, 24 years of progressive leadership experience. Mm-Hmm <affirmative>, and they've retired. And sometimes people you know, that are recruiters technical or otherwise or staffing firms will just put those two in the same basket and, and say, well, you're both veterans. So here, and, you know, an associate level PO like an entry level associate position, isn't necessarily a good fit for a large portion of veterans who are transitioning. So, so what do you say to folks who have like 8, 12, 16 years in who's li who are hesitant to talk to a staffing firm or a recruiter? Cause they're afraid they're just gonna get offered a, you know, 30 K a year salary job that they can't support their family on that. Isn't what they're valued at.
Shelby Whalen - Brookesource:
Absolutely. Well, I will say that is an excellent point, first of all. And you know, I would say that I, if I'm speaking with someone who, like you said, maybe has all of this higher education has all these years of experience and I'm reaching out to them for a position. I am not gonna be reaching out to them for an associate level position. You know, the position I'm reaching out to them maybe is a senior project manager or an architect, you know, for a digital transformation project. So I think it's understanding, you know, looking at someone's experience and understanding what roles that they are a good fit for. And I also also think that a big piece of it is I probably don't need to show them our transition accelerator. You know, they have a pretty like strong grasp at this point. You know, what it is like, you know, to work in the civilian workforce.
Shelby Whalen - Brookesource:
And of course, if it's something that they think they could utilize, that's awesome. But I think it's understanding you know, who is your audience and also feeling comfortable asking questions, because I think a lot of us that haven't served really worry about saying the wrong thing or asking the wrong thing. And I think it's being comfortable saying, Hey, you know, I see that you have this experience. I know that you've been out of the service now for 12 years or so, but, you know, is, is there anything that you think has really stuck with you and has helped you be so successful in your career so far and not being afraid to still ask about it, even if it was a while back or say, Hey, I'm not an expert in this space, I'm an expert in the hiring space, but I see that you have, you know, military experience in your past.
Shelby Whalen - Brookesource:
Is that anything, you know, we do advocate like on behalf of veterans in the hiring process, we offer transition assistance. Is that anything that would make sense for you or that you'd be interested in? And I think just not being afraid to ask, and of course you wanna be sure you're always being respectful. Mm-Hmm <affirmative> but also being like, yeah, you know, this is a person who's usually open to share, you know, sharing or they understand I'm not an expert, so it's okay to say, Hey, we offer this, would you be interested instead of saying, you need this transition assistance, <laugh> when they truly don't.
Adam Braatz - WVCC:
Absolutely. And you know, it, it is, it, it is a really tough it's a tough position. I think for some, especially those on the with the longer tenure in the military, mm-hmm, <affirmative>, you know, if you've served 24 years, obviously, you know, maybe you're getting out and you had 50, a hundred people reporting to you directly and wow. You know, you have, you're getting paid very decently and you have benefits and you have all these things established and you're known typically by that point as a subject matter expert mm-hmm <affirmative> however, you may not have worked a single day in the civilian workforce in your entire life. Yeah. So like, you may not need help professionally or as a leader, but like, you may still need base level, like crayons on scratch paper sort of transition assistance, you know, and it can be,
Adam Braatz - WVCC:
It can be a bit of an ego, like a little gut punch, you know, because in some ways when we transition, we have to start over, we have to pay our dues again, because we are entering a new world. And though we may be able to Excel quicker. We're gonna have to take a few steps back. Typically speaking, I think the mm-hmm <affirmative> the hardest part is that those service members in their families, if they've been serving for a long time and they're, you know, a non-commissioned officer are hire, or they're a field grade officer or hire, they're used to supporting themselves and their families at a certain level, and they cannot afford mm-hmm <affirmative> to go to an associate level thing. So they may be ready for a mid or, or a, a mid senior or senior, whatever.
Adam Braatz - WVCC:
But but their transition skills are at such a low level that they get placed inaccurately and it ends up placing a strain on them, in their family, which is why it's really important for people in your position with programs like the programs that you're doing to know what you're doing, and you do know what you're doing. And, and so I really appreciate really appreciate what it is that you do. So I'm gonna, well, let me throw this banner up here. If anyone wants to learn more about project Patriot and Brook source's whole elevate program, you know, it is, yeah, they're staffing, they're matching talent with positions, but they're also doing technical training upskilling you know, the, they, they do career advising for veterans, resume building, job, search, and interview coaching. Like it benefits them to get you into the right position.
Adam Braatz - WVCC:
You don't pay. You're not like here Brook source, here's $5,000. Let's roll the dice. It's like the, you, you don't even pay them. Like they, they, they, they keep their lights on by working with the, the, the employers who want to see who want to acquire good talent, quality, talent, who stay around for a long time. And so, so they, they do all of these things cuz they want you to get not just a job, but the best possible fit for the best possible compensation. Cause they, and the people who they serve their clients all benefit from that. Is that kind of an accurate overarching rundown.
Shelby Whalen - Brookesource:
Absolutely. And I love that you mentioned you know, individuals that are transitioning and it's that they have all this experience and it's that piece of like, okay, now let's adapt it to the civilian workforce. And I think that's where some of that resume work comes in so handy because it is, you know, explaining like, okay, maybe just again on paper, someone might not realize how incredibly, you know, talented and how incredibly experienced someone might be. So it's figuring out how do we take this resume and adapt it. Or again, if I'm sitting down with a hiring manager, how do I, you know, try to explain, yes, maybe you're not seeing that things are used to seeing, but this is why this person is absolutely qualified for this mid-level or this senior level position, even if it wasn't done, you know, at, at and T or something like that, maybe it was done, you know, within the Navy.
Shelby Whalen - Brookesource:
So I think it is just really understanding how to advocate on behalf of, you know, our candidates to our clients. And then I haven't mentioned once someone's actually in a position, we do have a veteran resource group. So it's three weeks into a position because you get so much information up front, you're more likely to ignore it, you know, in that first week or so three weeks into a position you are invited. If you've self-identified as a veteran to join our veteran resource group. So like you mentioned, we're nationwide. So that way, you know, any, one of all different you know, I guess position levels. So whether you're associate level or senior level, you're able to join this resource group and you're able to connect with other people who have been through or are going through your current situation. And then of course, that transition accelerator.
Shelby Whalen - Brookesource:
And one of the things that is on the transition accelerator, I like a lot is identify a mentor. And what falls under that is, you know, ask your recruiter for a mentor connection with military experience. So it's not just on someone's plate to say, okay, find a veteran mentor, good luck. You know, you've already been invited to join the veteran resource group. And then you can also reach out to me and say, Hey, you know, part of this transition accelerator is to connect with the mentor, Shelby, who do you know, or how can you help me connect with that person? So we are, you know, not just giving them a todo list, we're actually like supporting those connections. And really, you know, helping those things. There's 36, you know, different professional or transition accelerator goals for them to complete, which is about nine quarter. And it's to go over the course of 12 months.
Adam Braatz - WVCC:
Nice. See, that's, that's what I'm talking about. Comprehensive facilitation of the transition process Shelby, this is, this has been really great, really informative. Appreciate your time today. Any, any closing, parting wisdom?
Shelby Whalen - Brookesource:
I would just say that, yes, we are there to advocate for you, but please know, to advocate for yourself too, that your skills, your background, you know, what you've learned over the past four or more years is so, so valuable to a workplace. They're not doing you a favor by finding you or hiring you. You know, it's really because like you're worth all of the effort and you do so much to strengthen our workplaces
Adam Braatz - WVCC:
Right on well said. Yeah. It's, it's not a, it's not a warm, fuzzy thing they benefit from acquiring you as well. That's a good point. Shelby, I'll ask you to hang on the line here for just one second while I close things out. There you have it folks going across the bottom Brook source.com/elevate, learn more about project Patriot and, and all of what they do to to facilitate getting the right talent into the right places. And, you know, veterans are bombarded. Service members are bombarded with like, well, you need to translate your skills. And yes, correct. That's all well and good, but how do you do that? <Laugh>, you know you can search online forever and find 10 different bits of information that tell you to do it 10 different ways. What you need to do if you don't know, is talk to someone who has a wide breadth of experience in, in, in whatever scenario you, you need to learn about.
Adam Braatz - WVCC:
And in this case, if you don't know about translating skills, if you don't know about writing a resume, if you don't know about the civilian interview process, it, it, it, it behooves you to talk to somebody who does, and somebody who is in a staffing firm or a recruiter, someone who, who works for a Brook source like Shelby, who has done this a hundred thousand times and knows how to speak both languages and can translate. Cause you can't translate. If you can't speak both languages, that doesn't make sense. If, if, if you were, let's say you were in China and somebody came up to you and, and was like, Hey man, I need you to be an interpreter for me. Can you help me out? And you say, yeah, that's just fine. And you just speak English. You're not gonna be a lot of help to that person.
Adam Braatz - WVCC:
You need, you gotta be able to speak both languages. And if you can't, you gotta talk to somebody who does your interpreter has to know both languages, at least at a cursory rudimentary level. It's an analogy I just came up with and I'm very proud of, I'm gonna ride that one off into the sunset. I'm gonna, I'm gonna quit now while I'm ahead. That was a good one. See all next week. Thank you for listening to Wisconsin veterans forward brought to you by the Wisconsin veterans chamber of commerce. Please visit us at wiveteranschamber.org. Don't forget to subscribe to this podcast, leave a rating and review in whatever platform you're listening through.